Gift from alumnus Wally Sawyer '64 and wife Rae Sawyer to provide scholarships for Elon students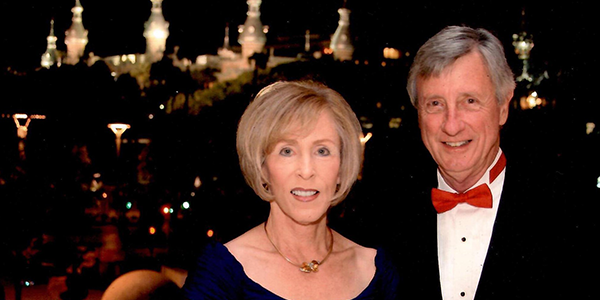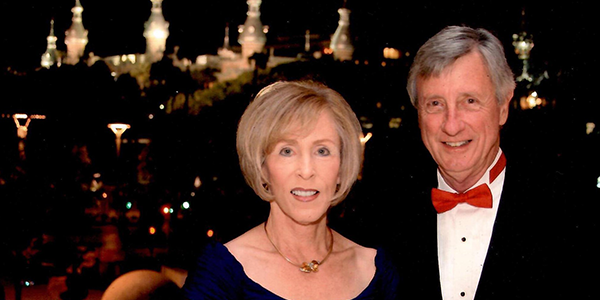 Elon alumnus Wally Sawyer '64 and his wife, Rae Sawyer, of Tampa, Florida, have made an estate gift to the Elon LEADS Campaign that in the future will provide funding for the Rae and Wally Sawyer Annual Scholarship. The couple established the scholarship fund in 2019 to support students with financial need who would be unable to attend Elon without assistance.
In addition to their estate gift, the Sawyers have made generous annual gifts to the fund to ensure the scholarship can be awarded immediately. Deepening funding for scholarships through endowment, annual and estate gifts is a top priority of the Elon LEADS Campaign.
"We've been very fortunate in life, and we want to give back to Elon," Wally Sawyer said. "We believe in education and have the ability to ensure our children and grandchildren get an education and also make this gift to Elon."
"We feel that education is the foundation in life for most people and there are students out there who don't have the opportunity to get an education," Rae Sawyer said. "We are particularly interested in focusing on students who are bright, motivated and want to participate in their education. They will make a huge contribution to society."
Wally Sawyer earned degrees in physics and mathematics at Elon. He credits the university's strong liberal arts foundation and renowned engaged learning focus with preparing him for a successful 38-year career as an aerospace engineer at NASA.
"We feel a liberal arts education exposes you to the real world," Sawyer said. "I am a product of that and wound up at NASA. Rae went to William and Mary and became a physician. A liberal arts education has served us well, and we think Elon does that very well."
Rae agrees. "We're pleased with Elon and how innovative they are and feel Elon prepares students better for the future."
The couple returned to campus for Wally's 50th reunion and again in 2019 when he received the Elon College Distinguished Alumni Award for his work in the natural, mathematical and computing sciences. Talking with students has only deepened their affection for Elon and motivated them to elevate their giving to the university.
"We had the best time meeting with students, and we were impressed with how bright and mature they were," Sawyer said. "It makes me proud and impressed with what's going on at Elon."
When asked what made his Elon experience special, Sawyer's reply comes quickly: exceptional faculty mentors. He fondly recalls the late A.L. Hook, a legendary professor of science and math as well as a mentor during Sawyer's time on campus.​ Hook was famous for marking mistakes on a student's exam and explaining what they had done incorrectly without giving a grade.
"He taught us not to worry about the grade but to focus on the process of getting to the answer," Sawyer recalled. "He was more interested in you learning and that lesson stayed with me during my entire career."
After graduating from Elon, Sawyer continued his education in physics at the College of William & Mary, where he met Rae, an undergraduate studying chemistry. While there, he completed an internship at Langley Research Center in Virginia in 1965, which launched his career at NASA.
Sawyer served in multiple roles at the space agency, including as director of the High-Speed Research program office, where he led the development of technologies in aerodynamic performances, airframe materials and structures, flight deck technology, propulsion technology and system integration to support development of high-speed civil transport. He participated in some of the most significant engineering achievements by NASA. At the same time, he studied engineering management at George Washington University.
Sawyer also served as deputy director of NASA's Dryden Flight Research Center at Edwards Air Force Base in California, deputy director of the Langley Research Center and special assistant to the director of the Kennedy Space Center in Florida. He retired in 2002 and continued serving NASA for several years in an advisory capacity. He has authored or co-authored 45 technical publications and a chapter in a technical textbook on missile aerodynamics. He also serves as an associate fellow of the American Institute of Aeronautics and Astronautics.
In recognition of his leadership, Sawyer has received numerous honors, including the NASA Equal Employment Opportunity Medal, NASA Outstanding Leadership Medal and NASA Distinguished Public Service Medal, as well as the Presidential Rank of Meritorious Executive award, the highest honor for a career civil servant. As an Elon alumnus, Sawyer served on the university's engineering advisory board for three years and is a former member of Elon's alumni board.
Rae Sawyer earned undergraduate and master's degrees in chemistry from William and Mary and a medical degree from the Medical College of Virginia. She retired in 2017 following a 35-year career as a diagnostic radiologist. She currently volunteers at the Moffitt Cancer Center and Research Institute in Tampa, where she serves on the center's Patient and Family Advisory Council.
Placing Elon in your estate offers the following benefits:
A Lasting Legacy: Your impact will be felt for generations.
Support for Your Priorities: Choose to support the program or opportunity meaningful to you.
Maximum Flexibility: Provide for yourself and loved ones with no financial impact today.
Peace of Mind: Be confident Elon will honor your philanthropic wishes.
Ease of Giving: Elon staff can walk you through the process, including providing language to share with your attorney or financial advisor when making your estate plans.
Order of the Oak: Your estate gift qualifies you for membership in Elon's planned giving recognition society.
Ways to Give:
Estate Beneficiary: Designate Elon as a beneficiary in your will, either as a percentage of your estate or a specific dollar amount.
IRA Beneficiary: Designate Elon as a beneficiary of your retirement account(s).
Residual Bequest: Designate a specific amount or percentage of your estate to Elon after your assets have been distributed to other priorities.
For more information about how to include Elon in your estate planning, contact Leanna Giles, associate director of planned giving, at (336) 278-5798 or [email protected] . You may also visit elonlegacy.org for more information.