Alumni Rich '97 and Jenn Nowalk '99 make generous estate gifts to 'empower the next generation'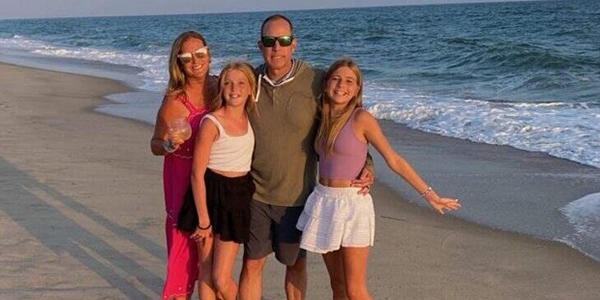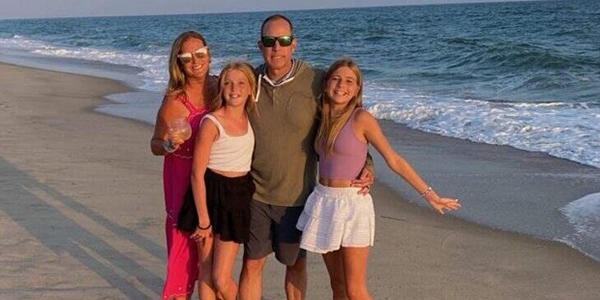 Grateful for their Elon experience and the lifelong relationships they formed, alumni Rich '97 and Jenn Nowalk '99 of Raleigh, North Carolina, have placed the university in their respective estate plans with gifts that will provide vital funding for Elon's long-term future.
The couple's gifts are part of A Will to Lead , a special initiative of the Elon LEADS Campaign that encourages donors to place Elon in their estate plans. Since the launch of A Will to Lead in March 2021, alumni, parents and friends have contributed more than $14.8 million in estate gifts to sustain Elon's nationally recognized brand of high impact, engaged teaching and learning.
Making gifts to Elon through their estates allowed the Nowalks to deepen their legacy at Elon and ensure their university will remain strong for the future.
"We have a love for Elon. It's where we grew up," Rich Nowalk said. "Elon has given us so much, and we wouldn't be where we are professionally and personally without Elon."
"We are really proud of the Elon of today," Jenn Nowalk said. "It makes us proud to be able to say we're Elon alumni and connected in some way."
Jim Piatt, vice president for university advancement, thanked the Nowalks for their generosity and leadership during the campaign.The couple served as co-chairs of the Raleigh Regional Campaign Committee of Elon LEADS.
"The Elon community is grateful to Rich and Jenn Nowalk for their inspired support of A Will to Lead as part of the Elon LEADS Campaign," Piatt said. "They understand how important alumni are to leading Elon's future and the role that estate gifts play in building a bright future for all students."
The Nowalks decided to elevate their giving to Elon after meeting with their financial advisor about the future and their estate plans. Their gifts count toward the Elon LEADS Campaign, which concludes on Dec. 31.
"As leaders in the campaign, we were inspired by the name Elon LEADS and the leadership message in the campaign," Rich said. "We wanted to show that even though we are in our forties, we can make this kind of gift now. A lot of people feel like they have to wait to do this kind of strategic planning until they are older, and they don't. Now is the time to be having these conversations."
"As we were planning our estate, we wanted to make sure Elon was covered in our plans, so leadership and legacy were a big part of that process," Jenn added. "We want to set the right example for our children so they can see how important those connections are in your life because they will take you places. At Elon, it always comes back to the relationships we formed."
The Nowalks are among Elon's most devoted and consistent donors, primarily supporting the Phoenix Club and Elon athletics each year, along with the School of Communications and Elon's greatest needs. They are avid fans of Elon athletics and regularly attend football and basketball games. The couple are members of the 1889 Society and Order of the Oak, which recognizes donors who make estate and other planned gifts to Elon.
For the Nowalks, making Elon a philanthropic priority is easy.
"When you're around the campus and talk to the students, it's clear Elon is producing really good people for the world," Rich said. "If you're an Elon person, you stand out, and we want to empower the next generation of Elon students."
Rich serves as Chief Operating Officer and Lead Technology Advisor at Opex Technologies. Jenn is a Realtor at Arcadia Real Estate Advisors.
Placing Elon in your estate offers the following benefits:
A Lasting Legacy: Your impact will be felt for generations.
Support for Your Priorities: Choose to support the program or opportunity meaningful to you.
Maximum Flexibility: Provide for yourself and loved ones with no financial impact today.
Peace of Mind: Be confident Elon will honor your philanthropic wishes.
Ease of Giving: Elon staff can walk you through the process, including providing language to share with your attorney or financial advisor when making your estate plans.
Order of the Oak: Your estate gift qualifies you for membership in Elon's planned giving recognition society.
Ways to Give:
Estate Beneficiary: Designate Elon as a beneficiary in your will, either as a percentage of your estate or a specific dollar amount.
IRA Beneficiary: Designate Elon as a beneficiary of your retirement account(s).
Residual Bequest: Designate a specific amount or percentage of your estate to Elon after your assets have been distributed to other priorities.
For more information about how to include Elon in your estate planning, contact Leanna Giles, associate director of planned giving, at (336) 278-5798 or [email protected] . You may also visit elonlegacy.org for more information.